Parish News and Events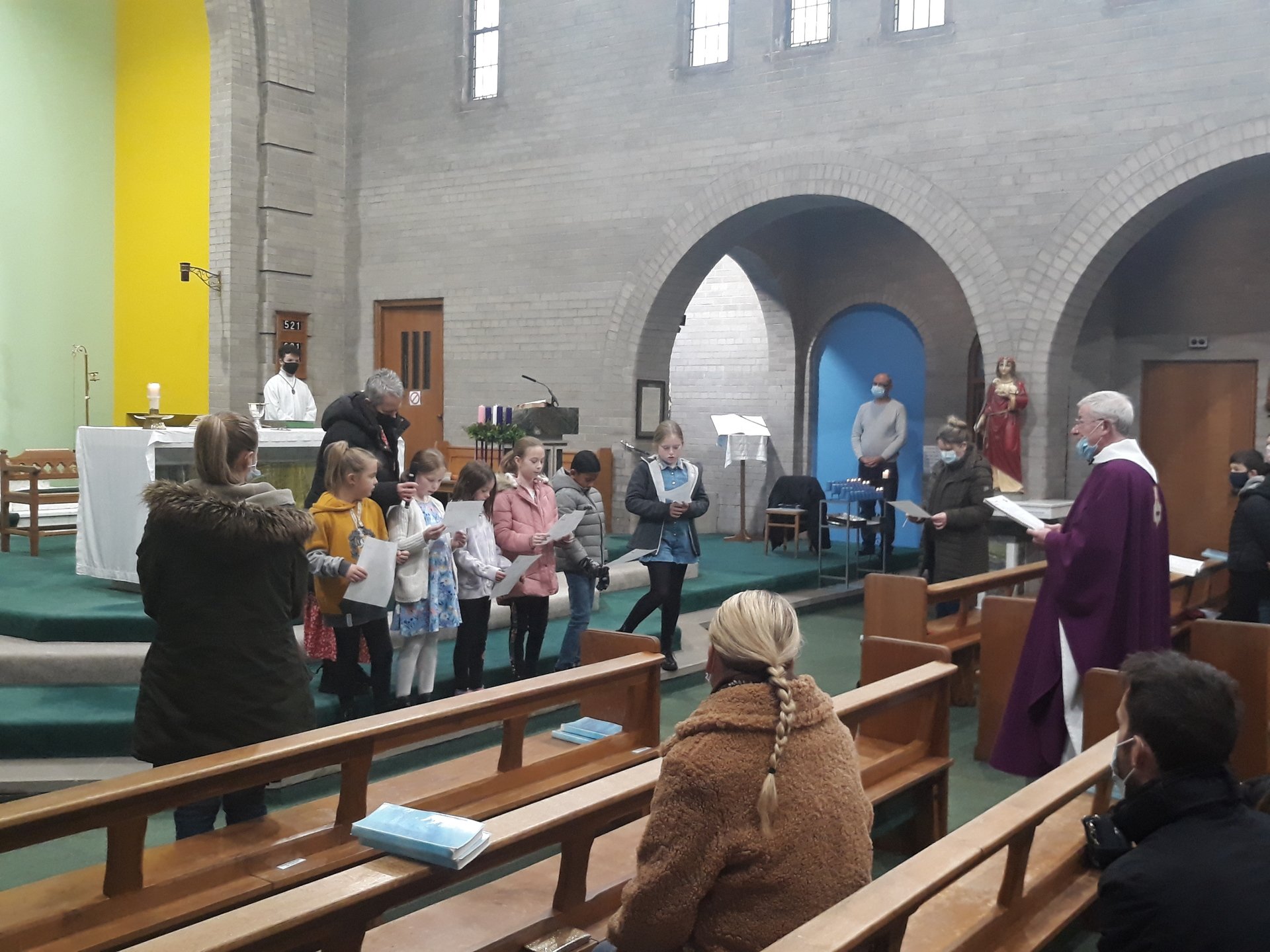 Advent comes again
Sunday 28th November 2021 saw the beginning of a new year in the life of the church. The first candle of the advent wreath was lit; the children who are preparing for the sacraments of reconciliation and first holy communion were also at Mass.
They led the congregation in the Penetential Rite at the beginning of Mass.
Our Lady of Lourdes' Organist Retires
In 1982 [39 years ago], one Fr. Paddy Magner (Parish Priest) asked Bernice McNestry to play the organ in the old church in succession to tone Mary Ritchley "for a while", and "just do the best you can" because she was then completely self taught on the piano, never having played the organ, much less in public. It is therefore with utter poignancy that we now announce Bernice's reluctant, but unavoidable retirement as OLL organist, because of recent ill health.
Poignant? Because, as with many other parish significant events, we are not able to celebrate with thanksgiving in the way that we would otherwise dearly love to do.Bernice has been presented with an admittedly token gift of thanks and appreciation for all her years of service, typically delivered to her at home as her intended presence at last Tuesday's mass proved not to be possible.It betokens all her quiet, unassuming, anonymous, never failing reliability in enabling and accompanying the Song of Heart in OLL these last 39 years. We simply cannot thank Bernice enough. I am sure many people will let her know this. We offer our thanks with all the grace with which she has served us all so well, so richly deserved as it is.
Enrolment of Sacramental Preparation Candidates 2021/22
It was with great joy that candidates for sacramental preparation are officially enrolled on the programme on the weekend of Sunday 7th November. Children from all three parishes came forward with members of their family to formally submit their applications at the special Rite of Enrolment liturgy during the Sunday Mass in our parishes. The children look forward to celebrating the Sacrament of Reconciliation soon, before preparation for Holy Communion in the Spring.
Easter Triduum 2021
Although still in the midst of a global pandemic and with reduced congregations, this year's Easter Triduum liturgies were at least celebrated in all three of our parishes. There was no congregational singing and the liturgies were slightly shortened, in accordance with the guidance from the bishops' conference, but all were very prayerful and uplifting celebrations.
Many parishioners, who were unable to be present in person, also joined via Zoom. Holy Thursday Mass was celebrated in Crawcrook, the traditional Good Friday liturgy in all three parishes at 3pm, the Easter Vigil in Rowlands Gill and Easter Sunday morning Mass in Crawcrook and Chopwell. Grateful thanks to all who contributed in any way.
Christmas 2020
At the end of what has been a year like no other, the celebration of Christmas was also very different to usual. There were no carol services, school celebrations or congregational singing, and our churches were much quieter than usual due to the restriction son capacity, but members from each of our three churches gathered for quiet, yet prayerful Christmas Masses. Many others joined our 4pm Christmas Eve Mass at St Agnes' via Zoom.
Celebration of First Holy Communion
Children from our parishes finally celebrated their First Holy Communion during September and October.
The celebrations were originally due to take place in late April, but were postponed due to the lockdown. Because of the current restrictions, the children could only be joined by members of their household, but members of their wider family and friends were able to join the celebration Mass via Zoom. The masses were lovely, prayerful occasions and the children thoroughly enjoyed themselves.
The children and families are so grateful to Fr James and the team of catechists for their time, dedication and support throughout the preparation programme. Photos at St Agnes' courtesy of Gavin Forster and OLL, Maire Millican.
A Very Different Holy Week
In this unprecedented time of pandemic, it was very strange for the community not to be able to come together to celebrate the Holy Week and Easter Triduum liturgies in the usual way.
Many made use of live streamed services, including Fr Tuckwell's streamed services at Blaydon and Winlaton and Bishop Robert and the clergy at St Mary's Cathedral. Fr James celebrated the liturgies privately on our behalf, although the parishes were very much with him in spirit. He had provided photographic images of the different liturgies, showing us how the churches would be set up: these were shared here on the website for people to access and help them to keep in touch.
There were over 400 visits to our website on Good Friday, with many more during the Triduum. Likewise, the website has been very busy in recent weeks as people have been accessing material, particularly the Adoration @ Home pages for each church. We are most grateful to Fr James for his caring ministry to us during this time of physical distancing.
Celebrating the Word of God
Our candidates for sacramental preparation attended Mass on Second Sunday of Ordinary Time for their special liturgy celebrating the Word of God. The liturgy took place after the Opening Prayer.
The Celebrant signs each child's ears with the Sign of the Cross and says: " Hear the Word of God." The parent signs the child's lips and says: "Speak the Word of God." The catechist presents the open lectionary to the child who places his/her hand upon it saying: "We will live the Word of God." The children were then presented with a copy of St Matthew's Gospel.
The Feast of Christ the King
On the final Sunday of the liturgical year, the candidates for sacramental preparation returned to Mass. . After the homily, the candidates renewed their baptismal promises with a firm 'I do' and dipped their hands into the font to be blessed with baptismal water.
We will Remember Them
Sunday 14th November 2021 was Remembrance Sunday. In each of our churches was as a small, but evocative, display for the Dead of the two World Wars. There were Acts of Remembrance in our villages - at the war memorial beside Our Lady of Lourdes church and at the Cenotaph opposite St Barnabas' in Rowlands Gill, where people gathered for a service organised by Churches Together.
We also commemorated all our parishioners who have died in these two years of the pandemic, and those who have died throughout our country from the coronavirus. Our parish Memorial Booklets will be presented to the Mass, celebrated by Bishop Robert and our Diocesan Clergy, in St. Mary's Cathedral on Saturday, 27th November at 11.00am. These memorial booklets have been lovingly prepared by Denny Hallam from OLL parish and we thank him for all his calligraphy skills, time and care of this event, which means so much to our bereaved families.
Before the Cathedral Mass, our Vicariate parishes will celebrate a Requiem Mass with Bishop Robert in St. Aloysius, Hebburn on Wednesday, 24th November at 7.00pm for all who have died in these days.
Diocesan Caritas Appeal
In response to an appeal from Fr Adrian Tuckwell, our Episcopal Vicar and EV with responsibility for Caritas, our Parish Committee Members asked to meet with him in person to discuss further his request that all Diocesan parishes donate 5-10% from their deposit bank accounts to a new fund for the alleviation of poverty in our Diocesan area. This meeting took place at 8.00pm in St, Agnes' on Wednesday, 10th November, to which all parishioners from all three parishes were invited.
The meeting took place with Fr Tuckwell, Fr James and seven parishioners present. Please read the minutes HERE.
Oh Yes, we did!
All things being equal, it might have been panto time in Rowlands Gill in early 2021. The Josephites started in 1999 and was made up mostly with parishioners from St Joseph's and over the years parishioners from St Agnes and Our Lady of Lourdes have joined with people out of our area (Burnopfield and Dipton) and also people from other local churches.
Our first pantomime, Cinderella, was performed at Strathmore Road Methodist Hall. We rehearsed in St Joseph's school or in the church (without the Blessed Sacrament being present!) Bernie Legg was the director, Joan Laidler wrote the script and Christina Reed Richards taught dancing.
After the second pantomime, Bernie moved out of the parish so Joan Laidler took over as director. We performed our pantomimes every other year, held them at Strathmore Road and over the years we successfully encouraged the schoolchildren and some parishioners to take part. We almost persuaded Fr Hall to be The Genie of the Lamp when we did Aladdin the first time but after a great deal of thought, he decided against it! A large number of people came to watch our performances and for years we had a minibus of people from St Anne's, Harlow Green who came to support us. Bishop Ambrose attended one of our performances and was delighted that a parish of our size could take on such a project and said he was very proud of us all. We built up a great wardrobe over the years and the scenery was very professionally done headed by Ruth Brennan and Carol Deveaux. We also had live music and special effects from Geoff Laidler, Pat Dobson and Patrick Brennan. There were teams of parishioners who made refreshments at half time and we also had raffles. All profits were given for parish funds.
After the new St Joseph's School was built, Mrs Parkin, the Headteacher asked us if we wanted to hold our performances in the school. She was very helpful and accommodating, the venture was a great success and got the school, the parish and the local community involved - excellent community cohesion. After the performances, some cast members were often stopped and congratulated by customers, whilst shopping in Tesco, Rowlands Gill – who always donated prizes for our raffles. Our priest thought it was a good idea to donate all profits for school funds which were gratefully accepted.
Colin Dobson took over the role of directing the children and did an excellent job. Some children from St Agnes' parish joined our cast and formed friendships and Mr Mark Jones from St Agnes came to take videos. We also took photographs and sent a couple with an article to the Northern Cross, which they published. It was a lot of hard work and dedication, but well worth it. After the last performance the cast had a private "cast party" which was always great fun and a sense of relief that all had gone well.
Has it come to a natural end? A few cast members want to keep the Josephites going and have another pantomime next year but some members have other commitments e.g. work, studies, children, grandchildren. Time will tell. What a good job we didn't plan to have one this year which would have been impossible!!! The Josephites are grateful to our parishes and the local community for their continued support over the years which enabled us to succeed and have many happy memories.
Joan Laidler
A Prison during Pandemic
Following last year's extensive repairs to the fabric of the church at Crawcrook, it became apparent that some urgent pointing was required on the rear of the presbytery at St Agnes.' In order to allow this to happen safely, the back of the house was covered with scaffolding, followed by the process of grinding out the old mortar and, finally, repointing of the brickwork.
During the weeks when the scaffolding was in place, Father James shared his view of the outside during the Zoom Coffee Morning - it looked very much like he was in prison, which is somewhat ironic during this time of enforced lockdown. Thankfully, the bars were taken down as soon as the work was complete - in an incredibly quick time of 40 minutes thanks to contractor Bill Mason - followed by a sense of liberation from his three weeks "behind bars."
Rite of Election
Our children who are preparing for their First Holy Communion celebrated the Rite of Election at their parish liturgy celebrating in the Liturgy of the Eucharist on the third Sunday of Lent.