Latest calendar Events
Octave of Christian Unity, 18-25 January

18

Jan

2022

The Week of Prayer for Christian Unity in 2022 has been prepared by the churches of the Middle East, the history of which was, and still is, characterised by conflict and strife, tainted with blood and darkened by injustice and oppression. The Christians of the Middle East offer these resources conscious that the world shares many of the travails and much of the difficulties that it experiences, and yearns for a light to lead the way to the Saviour who is the light that overcomes darkness.
Communal Service of Reconciliation

19

Jan

2022

6:00 pm - 7:00 pm @ St Agnes', Crawcrook

For sacramental candidates from St Agnes and St Joseph's schools.
Mass for the patronal Feast of St Agnes

22

Jan

2022

10:00 am - 11:00 am @ St Agnes'

Mass to celebrate the patronal feast of our Crawcrook parish. Tea and coffee afterwards!
3rd Sunday of Ordinary Time

23

Jan

2022

Weekend Masses at the usual times. Booking necessary. Special day of prayer for peace and annual SPUC appeal.
4th Sunday of Ordinary Time

30

Jan

2022

Weekend Masses at the usual times. Booking necessary.
BOOKINGS FOR VIGIL & SUNDAY MASSES
St. Agnes: Julie Hindmarsh 07891162205 - Tues & Fri 2pm-6.pm
Our Lady of Lourdes: Deacon Derek 01207561445 or 07910825113 - Wed & Thurs 2pm-6pm
St Joseph: Tricia Charlton 07563168883 - Mon 3pm-5pm & Wed 6pm-8pm
SUMMARY OF THE PARISH SYNOD GATHERINGS
An open invitation was initially made in October 2021 to everyone in the parishes of St. Agnes' (Crawcrook), St. Joseph's (Highfield) and Our Lady of Lourdes (Chopwell) to participate in Parish Synod gatherings.
Up to 8 parishioners from the parishes of St. Agnes' and St. Joseph's have been attending gatherings since 30th October 2021 with another scheduled on 29th January 2022.
The group has been guided by the 'Road to Emmaus' booklet, discerning the 3 general questions and the first 5 main questions.
Each gathering has been rooted in prayer and scripture, with an emphasis on listening and discernment. Notes have been recorded from each gathering and shared with the attendees for their individual and personal reflection. The notes are representative of individual members of the group and may not represent the views of the wider parishes. Summary points have been communicated in parish bulletins but the detailed notes are not intended for wider distribution.
Members expressed gathering together and listening to individual reflections has created a safe space to share personal views and build trust, with some stating it has been a powerful experience and feeling drawn closer to God.
Members will be invited to meet finally to discern which, if any, of the key points they want to feed into the Diocesan Synod process for consideration by Bishop Robert and the Diocesan Synod team.
| | |
| --- | --- |
| | Every session of the Second Vatican Council began with the prayer 'Adsumus Sancte Spiritus', the first word of the original Latin, meaning, 'We stand before You, Holy Spirit', which has been historically used at Councils, Synods and other Church gatherings for hundreds of years, and is attributed to St. Isidore of Seville (c. 560 – 4 April 636). |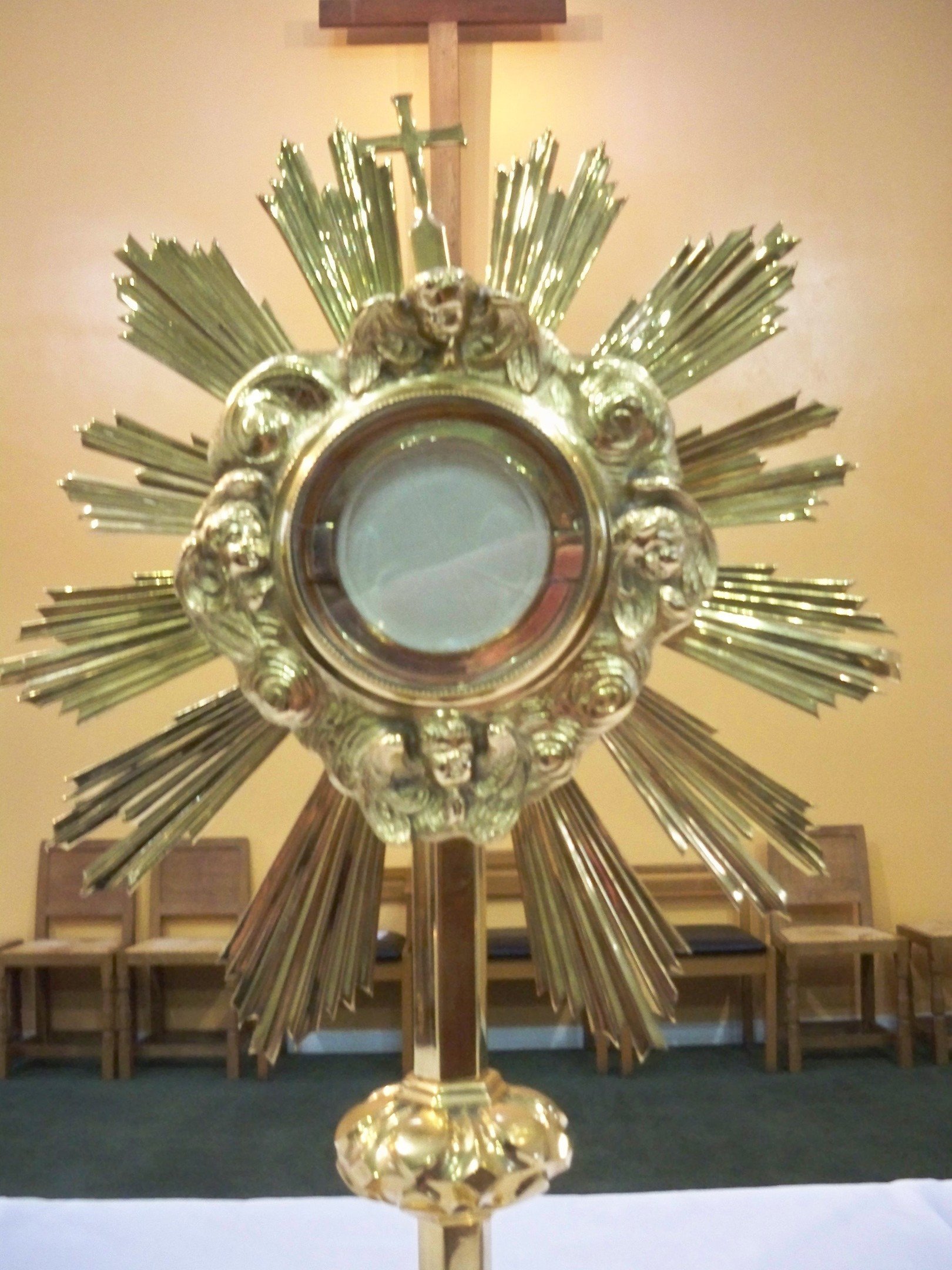 ADORATION OF THE BLESSED SACRAMENT @ HOME
Follow these links to images of the Blessed Sacrament exposed in our three churches for your private prayer:
Join us in prayer
Please also pray for all who are sick or housebound, including:
Chloe Anna Cant, Aaron Armstrong, Monica Coleman, Kathleen Diamond, Patrick John Lawrence, Ruth MacCaughey, Mia Slowie, Doreen Hodgson, Valeria Coleman, Terry Reay, Simon Burns, Martin Bryce, Brian McNally, David Patton, Maureen McEwan, Joseph Jarvie, Bernice McNestry, Margaret Jackson, Vincent Kelly, Jenny Burns, Rosaline Young, Valeria Greenall

Please also remember in your prayers Father Michael Keoghan and Deacon Michael Wood who are ill at this time.
Please pray for all those who have died recently, including:
Rosaline Young, lifelong parishioner of St Joseph's parish, who died recently. Please keep Rosaline and her family in your prayers at this time.

Margaret Jackson, parishioner of Our Lady of Lourdes Chopwell, who died on 13th January. Remembering also her husband John and all her family. Funeral arrangements are not available yet.
Cycle of Prayer: Ordinary Time - Winter
Peace on Earth,

especially on the Day of Prayer for Peace (2nd Sunday in Ordinary Time) and (from 2016) Racial Justice Day (3 Sundays before the 1st Sunday of Lent)

Christian Unity, especially during the Octave of Prayer for Christian Unity (18–25 January)
Victims of Human Trafficking, especially on St Josephine Bakhita (8 February)
The Sick and those who care for them, especially on World Day for the Sick (11 February)
The Unemployed, especially on the Day of Prayer for the Unemployed (1 Sunday before the 1st Sunday of Lent)
COVID 19: LATEST GUIDELINES and UPDATES
From Bishop's House (17th December 2021): COVID Controls - Halls and Meeting Spaces

The emergence of the Omicron variant of COVID presents a very significant risk to our clergy and congregations. Whilst the UK Government has kick started an accelerated vaccination programme, the devolved administrations and many experts believe that this alone is insufficient to counteract the very rapid increase in COVID cases which is being driven by the much more transmissible Omicron variant.

Once again I have taken both clergy and lay advice in reaching these decisions whilst also giving consideration to the latest guidance published by the Government.


The growth of Omicron cases in the UK is now mirroring the rapid increase that has been observed in South Africa with the doubling of case numbers every 2 to 3 days. On Thursday 16th December the UK recorded 88,376 confirmed cases of COVID in the previous 24 hour period. This is the highest number of cases recorded since the pandemic started. Scientists report that Omicron is the most rapidly spreading COVID variant seen so far. In London, Omicron has overtaken Delta to become the dominant variant. At this early stage of the emergence of Omicron in the UK it is difficult to predict how this will impact on the number of hospitalisations and deaths. It is believed that one person infected with the Omicron variant of COVID will spread the virus to between 3 and 5 other people.

COVID infection rates in the North East were at a seven day average of 380 cases per 100,000 on the 16th December. This rate has remained relatively consistent for the past few weeks. The Delta variant remains dominant in the North East but this is expected to change as Omicron sweeps across the country leading to a significant increase in the local infection rate.


The UK Government has adopted "Plan B" and is strongly advising the population to get a booster vaccination but has stopped short of introducing any further COVID controls, but in the same televised Government briefing on 15th December, Professor Chris Whitty, the UK Chief Medical Adviser, advised that we should "de-prioritise socialising". On Tuesday 14th December the Scottish Government announced a series of further, more stringent, measures to reduce COVID spread. Amongst other things The First Minister said that "… if you do plan on socialising, either at home or in indoor public spaces, we are asking that you limit the number of households represented in your group to a maximum of three … and ask that you test before you go."

Two doses of vaccine have been shown to provide a poor level of protection against the Omicron variant so the UK Government is driving an accelerated booster vaccination programme. The North East is providing about 16,000 jabs per day and as of 15th December had provided booster vaccinations to 42% of the adult population. This is a serious situation, evidenced by the rise in daily COVID cases and the unprecedented drive to get the whole of the UK adult population vaccinated in 3 weeks. The enhanced vaccination programme is just starting to ramp up but it appears that its ability to control COVID infections is being outrun by the increased transmissibility of the new variant and hence the need for further control measures.

Church services take place in a well-controlled environment if our guidelines are followed and I would like to remind you that it is vitally important that we all do everything we can to keep everyone safe. I set out the most pertinent COVID guidelines in my last communication to you on 10th December but in addition I would ask that you are sensitive to the duration of church services and encourage the congregation to disperse quickly at the end.

Whist we are still able to safely gather in our churches the same is not true for our church halls and meeting spaces. Socialising and most other forms of group activity in our church halls and meeting spaces present a very serious risk of COVID transmission. We do have controls in place in our halls and meeting spaces but it is much more difficult to maintain social distancing; so the much more transmissible Omicron variant has an ideal environment in which to spread. I recommend that we close our church halls and meeting spaces to all groups and activities at the end of Friday 17th December. They should remain closed until further notice.


There are some very limited exceptions to this recommendation for example those halls that are used for essential Caritas activities or registered early years provision. These activities may be able to continue to operate a restricted service providing that they are fully assessed and suitable COVID controls put into place. Please contact the Diocesan Health and Safety Adviser Michael McElroy (michael.mcelroy@diocesehn.org.uk) to discuss your activities before proceeding.


A further review of our COVID controls relating to church halls and meeting spaces will take place in January when the effects of the Omicron variant may be apparent.

Issued by Bishop's House (10th December 2021): Adapted diocesan COVID guidance

The emergence of the Omicron variant of Coronavirus is causing concern across the country and whilst we do not yet fully understand the effects of the variant, research in other countries has shown it to be much more transmissible. Following the announcement by the Prime Minister that the Government has moved to implement 'Plan B' of their Winter COVID-19 Plan, new rules have been phased in, in England from (today) Friday 10th December. Face coverings will become compulsory in most public indoor venues including places of worship from this date.


With this in mind, I believe it is an appropriate time to confirm our Diocesan COVID controls which I ask are followed to ensure that our churches continue to be safe and welcoming places. Once again I have taken both clergy and lay advice in reaching these decisions whilst also giving consideration to the latest guidance published by the Government and the Catholic Bishops' Conference of England and Wales.

I confirm our Diocesan position on the most pertinent points to be:

COVID symptoms - people displaying any symptoms of COVID should stay at home and not travel to church or participate in person.

Vaccinations – are the best way to control the spread of COVID. We can show that we care for each other by getting vaccinated and attending for the booster dose when it becomes available.

Ventilation – it is still important to ventilate churches by leaving doors and windows open. This has the effect of diluting and dispersing viral particles.

Hand sanitiser - use of hand sanitiser on entering and leaving church and before liturgies should continue.

Face coverings - all those attending church MUST wear a face covering unless they are exempt from doing so. Priests in the sanctuary, providing they are sufficiently distant (2m or more) from the congregation, do not need to wear a face covering except when distributing Holy Communion.

Social Distancing and Capacity of Churches – it is now possible for each row of pews to be used providing that a minimum 1M spacing between households sitting in the same pew is maintained. This clarification may allow church capacities to be increased beyond the minimum number previously stated in your risk assessment.

Cleaning – Is it possible to clean using commonly available cleaning materials. You should:

- Clean high frequency touch points in buildings after each act of worship.

- Thoroughly clean the church once a week.

Congregational Singing – Indoor congregational singing can take place provided that face coverings are worn by members of the congregation. The use of cantor groups and other choirs is permitted, without the use of face coverings, provided all members of the group are a minimum of 1M apart, facing the same direction and are a minimum of 2M from the congregation.

NHS Test and Trace – The Government is still encouraging certain venues, including places of worship, to keep a record of those attending to support the NHS Test and Trace programme. This could be achieved, for example, by displaying an NHS QR code poster close to the entrance. People can check in by scanning the NHS QR code poster via their NHS COVID-19 app. Consideration should also be given to using a separate signing-in system which is manageable for the parish.

Hymn books and Mass cards – can be reintroduced

One-way systems and movement of people - It is no longer necessary to have one-way systems or other restrictions on movement in churches.

Celebration of Holy Mass

- It is not recommended that Holy Water stoups are refilled.

- All usual ministers for the celebration of Holy Mass can be deployed such as servers, cantors, readers and Extraordinary Ministers of Holy Communion.

- The offertory collection can be resumed in church with baskets and pouches.

- It is recommended that the physical Sign of Peace remain suspended and its omission will help to reduce physical contact between people during the celebration.

- Holy Communion will continue to be under one kind and the ministers will continue to sanitise their hands beforehand and wear a face covering whilst distributing. Communion is recommended to be distributed in the hand but those who wish to receive on the tongue may do so. There should be care on the part of the minister to avoid physical contact with the hand or the tongue of the communicant when distributing Holy Communion. In the event of contamination the minister should sanitise their hands before further distribution.

- Concelebration is permitted and Holy Communion by the concelebrants should be by intinction (including the principal celebrant), and the consumption of the remaining sacred species and cleansing of the chalice should be performed by the principal celebrant alone.

- Holy Communion should be given at the normal place in the Mass.

Celebration of Holy Baptism – Baptisms can take place up to the COVID secure capacity of the church based on a minimum of 1M spacing between households. However, it is recommended that single families should have children baptised at any one celebration. Baptisms involving multiple families and children should be avoided for now.

Celebration of Confirmation - Confirmations can be celebrated as usual with the caveat that the laying on of hands should be by the celebrant extending the hands over the confirmandi and the Sign of Peace be a gesture without any physical contact.

Celebration of the Sacrament of Reconciliation - a physical barrier, such as a Perspex sheet or heavy curtain, should cover the grille between the confessor and the penitent. Good ventilation of the penitent's side of the confessional should be deployed to prevent stagnation of air.

Immunisation status of Eucharistic Ministers and others - all those responsible for distributing communion to the sick and housebound must only do so if they have received their recommended COVID vaccinations. People who are unvaccinated are at much greater risk of becoming infected with COVID and passing it on. In this particular situation, the risk of transmission by touch or expelled breath is increased further because the Eucharistic Minister would be coming into close contact with the sick or housebound communicant. Additionally, a sick communicant is much more likely to develop a more serious reaction to COVID if it were to be transmitted. It is recommended that people who are engaged in a form of pastoral ministry which involves ministry to the housebound, sick and vulnerable, should take regular lateral flow tests to ensure they are safe to do so. These are free from the NHS.

At your discretion you may wish to adopt a more cautious approach should you consider that your individual parish circumstances warrant this. However, I would request that there be no further relaxations of the controls outlined above at this time.

An update of the Diocesan Risk Assessment, Handbook, FAQs and Cleaning Protocol is currently being prepared to reflect these changes and will be issued in due course.
+ Rt Rev Robert Byrne CO
Bishop of Hexham and Newcastle
Diocesan COVID Restrictions Sept 21
Coronavirus - Handbook for the re-opening of churches v11
Coronavirus Generic Risk Assessment - Return of congregations to church