Parish News and Events
Click on the thumbnails to view photo galleries.
St Agnes' Goes to the Dogs
A group of parishioners from St Agnes' enjoyed a trip to the Newcastle Greyhound Races in April. Here are some pictures of them studying the form-book very carefully!
Good Friday prayers said at the site of St Joseph's Church
The Rowlands Gill and Highfield Churches Together held their ecumenical 'walk of witness' on Good Friday, beginning at the Cenotaph in Rowlands Gill. A cross was carried through the streets taking in the four churches and many of the places where local Christians are involved in mission activity, ending on the hill beside St Patrick's church. The walk included readings from scripture of the 'way of the cross' and gave people the opportunity to pray for the people and concerns for our communities.
The penultimate stop was at the Calvary that remains at the site of the old St Joseph's Church in Highfield; the site, including the remaining presbytery and the old St Joseph's School, is now occupied by the Carers' Trust. The scripture reading reflected on the witnesses of Christ's death and worshipers prayed that local Christians are effective witnesses to Christ.
Schools share celebration of the Stations of the Cross
On the Wednesday of Holy Week, children from Years 5 and 6 of St Joseph's and St Agnes' Primary Schools joined together for a shared liturgy of the Stations of the Cross in St Agnes' Church. Pupils from both schools took turns to present each of the 14 stations through readings, drama and song. The liturgy was prayerful and inspiring; the children participated reverently and enthusiastically. They were joined by some family members and parishioners who found the service very moving.
Ecumenical Advent Services
Ecumenical friends in the Wylam, Crawcrook and Greenside Churches Together area gathered in St Agnes' on the first Sunday of Advent for a joint service. The collection taken was in aid of CAFOD and Christian Aid.
A week later, Churches Together in Rowlands Gill and High Spen gathered in St Barnabas' Church for the annual 'Big Sing.' The service started outside, with the lighting of the Christmas tree, then moved into the warmth!
Experience Christmas
This was a truly ecumenical undertaking with people from all four churches in Rowlands Gill and High Spen area sharing their creativity and hard work to make it happen.
St Patrick's C/E Church was used as the venue and people from our churches set up 'stations' around the church to help our local school children (and some adults who joined in the fun) to engage in the Christmas story and reflect on how the story might have a bearing on their lives. We've had 364 children and 123 adults through the experience from all four of our local primary schools. People from our churches spent hours cutting up paper donkeys, present boxes, angel cards and the like to make this possible. People from all of our churches came along to morning and afternoon sessions to welcome the children and help them in the various activities around church.
The event had a great feel all the way through – on the first afternoon, two little boys enthusiastically declared how much they'd enjoyed the whole event and were joined by a little girl who excited said 'I can't wait to see the baby Jesus'. A message from a parent helper after the St Joseph's school visit said how her daughter was busy telling her dad all about it and asking him what gift he would give to Jesus this Christmas.
Well done to all our folks and to give thanks for what our churches have done working together over these weeks. Along with a nativity Christmas Tree decoration, we gave everyone who visited a little Christmas Card with the times of our four church's Christmas services.
Rev John Barron
The elements take their toll at St Agnes
The main doors at St Agnes are temporarily out of use, as a scaffolding tower has been erected to give access to the window above. The north-facing stone work has become damaged and is in need or urgent repair. Fr James was spotted climbing up to assess the damage after Mass on Wednesday.
Following some repair work by a stone mason, the damage has been repaired. 2018 should see more remedial repair work to the exterior (guttering etc.) as well as repairs to walls. The inside is also due some refurbishment, including repainting and improvements to the lighting.
Sacramental Preparation programme underway
The next programme of Sacramental Preparation got underway.in early September. The programme stretches right through until June 2018, when the candidates will make their First Holy Communion, with Reconciliation being celebrated in December. The first session for parents took place on 14th September at Our Lady of Lourdes. The children's classes got underway the following week, with the children starting their preparation for first Reconciliation during Advent.
In the next session, the were children learning about the meaning and symbols of baptism. They performed role play in the baptism of baby "Emma" around the font and paschal candle, with children playing the roles of Celebrant, parents, Godparents and the congregation.
Reflections from Lourdes
Kiturah Richardson and Anna Duffy from our parishes took part in this year's annual Diocesan Pilgrimage to Lourdes. Here is a reflection on the experience from Kiturah:
When I was asked to think about going to Lourdes, I was really unsure. I know loads of people who have been year after year in the past, and they all said how much of an amazing, life changing experience it was, they also said that it is impossible to describe how it makes you feel. I never understood what they meant by that, until I went myself last week. As soon as we arrived in Lourdes, we were kind of thrown in at the deep end, not really knowing what to expect. The type of things that you get asked to do ranges from making cups of tea, taking someone to the toilet, feeding someone, washing and dressing someone. As a first timer, it was quite daunting, the idea of feeding someone else was scary, but when I was asked, I did it. Something comes over you and you just do what needs to be done, I really surprised myself this week. Throughout the week I found myself offering myself in ways I never thought I could. In the hospital, you meet such a range of people with different illnesses and disabilities, some of whom are unable to communicate. One day I was asked to push a man's wheelchair who used makaton to communicate, something I couldn't do. By the end of the day, I learned loads of different signs and was having full conversations with him in makaton. In Lourdes, you learn that it takes a little bit of time and a little bit of effort to make a difference. You feel a sort of privilege to be helping the people, even just pushing their wheelchairs to and from a mass, they are always so grateful. So many of the pilgrims said to me that the pilgrimage wouldn't work without the service offered by the youth section, it makes you feel a kind of glow inside, that you've made a difference. That was my favourite part of Lourdes, feeling that I made a difference to people's lives, even if it was just for a week. Lourdes has also helped me to deepen my faith, I have never felt so close to God than I did when I was sitting in the grotto at 5 in the morning, a few of us got up early to go down and have some peaceful prayer time before the day. You feel an indescribable spiritual connection, the silence and stillness is something I have never experienced before. Although my week in Lourdes was hard work, both physically and emotionally, it was also amazing fun. On the evenings we took part in themed nights, this year we had a where's wally, a bollywood, and an Irish night. It was lovely to see the youth section, the pilgrims, the adult helpers, the nurses, the priests and bishop all join in together on an evening and learn to bollywood dance and ceilidh. On bollywood night, even Bishop Seamus was up learning how to dance amongst the youth section while the pilgrims cheered us all on, that's what I think Lourdes is about, it's about the young, the old, the able and the disabled, coming together. I want to thank everyone who donated money towards my fundraising, without it, I wouldn't have been able to take part in this amazing experience.
Mystery Trip...to Woodhorn
The Friends of St Agnes held their annual Mystery Trip last month. The group ended up having a thoroughly enjoyable day in Northumberland, at Woodhorn Colliery near Ashington, before heading to the coast for fish and chips at Seaton Sluice. Next year's trip...who knows where? Let's hope to have parishioners from all three parishes joining.
Diocesan Festival
The theme for the Diocesan Festival 2017 at the Emmaus Youth Village on 24-25 June was titled "Changing Hearts - The challenge of discipleship."
The programme included speakers, drama, music, testimony, prayer opportunities and sessions for children and young people. On Saturday evening there was a family céilidh.
Two families for our parishes attended this year and all had an amazing time. Bishop Séamus was present for the entire weekend and in his concluding comments, he challenged every Partnership to bring a coach full of people to next year's festival. Please get in touch if you're interested and would like to know more. Click HERE to see the full gallery of photos.
Mark Hindmarsh
Converting media.
(Media will continue converting in the background)
Going Forth
Following the celebration of First Holy Communion on the weekend of Sunday 18th June, the programme of Sacramental Preparation came to completion the following Sunday when many of the candidates returned to Sunday Mass. At the end of Mass, they presented a "sending out" prayer as a witness to the community. The children prayed:
Jesus has no body now on earth but ours. No hands, no feet, on earth but ours. Ours are the eyes by which he sees, the ears by which he hears. Ours are the lips by which he speaks of his love. Ours are the feet by which he walks in the world. Ours are the hands by which he blesses the world. We are his body. Jesus has no body now on earth but ours.
Summer Fayre @ Chopwell
Thank you so much to everyone who came to our Summer Fayre last weekend; for your support and hard work under difficult circumstances. IT RAINED. But then we just finished packing everything away and the sun came out!! it is our Parish policy not to publish financial amounts. I can assure you all that we did very well. If you wish to know the amount, just ask
And a new sanctuary carpet
The newly refurbished floor at St Barnabas has been topped off with a new sanctuary carpet. Thanks to all who came along to help lift the old one.
Further refurbishment at St Barnabas'
The wooden parquet floor in St Barnabas' Church was given a much-needed refurbishment at the end of April. Parishioners worked together to move the pews into the adjoining church hall while the work was completed. The shiny flooring complements the new wooden partition between the church and the hall.
Hot Cross Bun Witness
Members of St Agnes' Parish joined fellow Christians in Crawcrook on Good Friday taking the message of Jesus' sacrifice on the cross to the wider community. They offered Hot Cross Buns, wrapped in especially printed napkins, designed to raise awareness about the importance of Good Friday. The Hot Cross Bun Witness, organised by the Methodist Church, is an innovative , new initiative which was also a great witness to strong spirit of ecumenism that exists in our communities.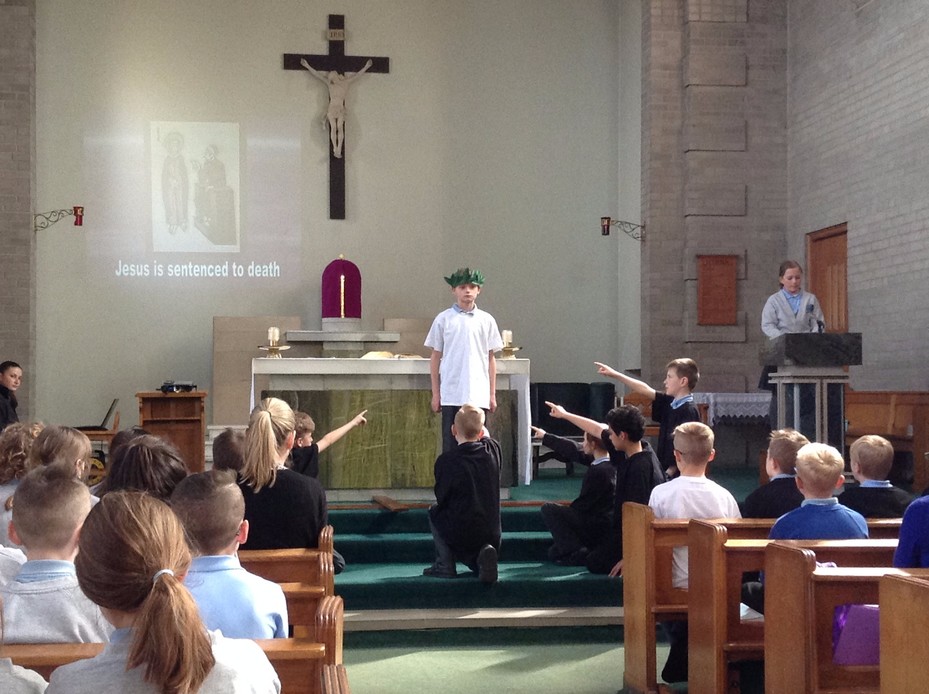 Schools celebrate joint Stations of the Cross
On Wednesday 4th April, Years 5 and 6 pupils from our primary schools joined together to celebrate Stations of the Cross in St Agnes' Church. The children from St Agnes' and St Joseph's Primary Schools presented the stations in the form of readings, drama and music. After each station, they prayed together for a wide range of petitions. All present would agree that there was a lovely atmosphere, and that the children were a credit to our community with their earnest and wholehearted participation.
To view pictures of all fourteen stations, click HERE.
Talk on the Northern Saints
During Lent, Mike Duffy, parishioner at St Joseph's, gave an illustrated talk on the Northern Saints at Our Lady of Lourdes. The presentation has led to a suggestion that a trip to Durham Cathedral for the three parishes be organised. Mike, who is an official guide at the cathedral, has agreed to be our guide. So after Easter, watch this space for parishioners' views!
Success at John Paul II Awards
On Thursday 2nd March, the Tyne Theatre played host to the first Pope John Paul II Awards for the Diocese. Our congratulations goes out to two of our young parishioners Ellen Scott and Sophie Thorpe, who were among those to receive the award.
Over the last two years, the two girls have been working towards their award by taking on responsibilities in our parish and in the community. Ellen and Sophie were delighted to receive their Gold award from Bishop Seamus and Fr Paul Farren from the Diocese of Derry, who created the award.
Twistin' the Night Away
Around 80 people, aged from young-in-age to young-at-heart, enjoyed a superb social evening in St Barnabas' Church Hall on 3rd March.
Live music from 1950s and 60s was provided by much-loved band 'Heartbeat', back by popular request, and the dance floor was filled from start to finish. There was also a quiz, provided by quizmaster Paul Webster, and a hugely impressive raffle!
Thanks to all of those who were involved in organising such a wonderful night.
Improvements at St Barnabas'
Four years in the making (for various reasons), a new glass partition has finally been installed at the rear of the church to replace lethally heavy old wooden ones in St Barnabas'. The aim was to give greater light into the Church under Choir balcony; to enable Church/Hall Hire users to be more aware of each other; to accommodate "overflow" attendance in Church eg. funerals and/ C of E Sunday School Liturgies; and, most importantly, to enhance the Church as a welcoming place of worship.
Also added is a beautiful Holy Water font, modelled on one in Chopwell, fashioned by Fr. Tony Duffy, PP of Birtley, (original by our late parishioner in OLL, Ray Ellis.)


Christmas Lunch
Staff at St Joseph's School took a few moments out of the hectic build up to Christmas, with a festive lunch together. They were joined by Foundation Governor, Paul Bradley.
School Mass @ Our Lady of Lourdes
St Joseph's School Masses usually take place at St Barnabas', Rowlands Gill. However, Years 1 and 2 recently travelled up to Chopwell by coach and joined some delighted parishioners for Mass at Our Lady of Lourdes. After Mass, they looked at some of the features in church with Deacon Derek.
Youth Sunday
Sunday 20th November, The Feast of Christ the King, is also Youth Sunday. At the weekend Masses, it was great to see some of our young people taking an active part in the liturgy, through the ministry of reading, music and serving. Some of our young people also spoke during the homily, sharing their faith with the whole congregation.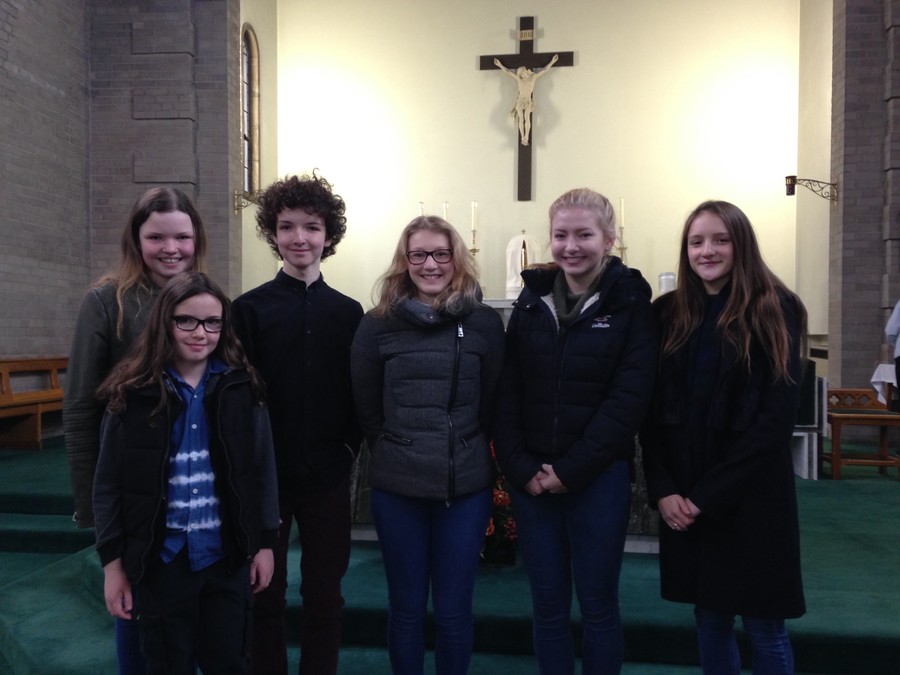 Ellen, Sophie and Bethany are currently working towards the Pope John Paul II Award. The girls lead our children's liturgy at St Agnes on a regular basis, they always provide fun and informative activities which enable the children to understand the Gospel message. At school, as part of their social action they are involved in raising money for St. Cuthbert's Care and other local charities. They manage to fit this in with their studies, university applications and part time jobs. We wish them luck!
The John Paul II Award is for anyone between the age of 16 and 18. It is non-competitive, inclusive, flexible and voluntary. Awards are earned by taking part in parish and social activities – 1 hour per week over 8, 14 or 20 weeks. There are 3 Award levels – Gold, Silver & Bronze. Those that have completed the Gold Award have a further option of completing the Papal Cross Award.

Over 20,000 young people, in 21 dioceses throughout Ireland and the U.K have successfully completed the Pope John Paul II Award. For more details, please click HERE
Improving Visibility on the Sanctuary Steps
The carpet on the middle step up to the sanctuary at St Agnes' has been replaced. Following a fall on the steps, some safety tape was applied temporarily to highlight the hazard. However, a contrasting carpet has been used to make navigating the steps less dangerous for those with visible impairment.
Stemming the floods at Our Lady of Lourdes
Following issues with water flowing over the car park, and causing dangerous situations in all weathers, some new drainage channels have been fitted to the car park at Our Lady of Lourdes. It is hoped that they will prevent water going over the car park and keep everyone safe.
Easter Joy as new member received into Church
Congratulations to Alexandra (Alex) Gatehouse, who was received into full communion with the Catholic Church at Chopwell on Easter Sunday. Please remember her in your prayers on this happy event. It was a great occasion for all who attended.
The Easter Vigil was celebrated at St Barnabas' and, despite the cold, the liturgy started in the garden. The 9:15am Mass at Crawcrook on Easter Morning was followed by a Easter egg hunt for the children in the garden. Overall, our Holy Week services were very well attended, with attendances mostly up on last year.
Parishioners lead celebration of our Lord's Passion
Following Deacon Chris' move to the Pontop Partnership, this year's Good Friday 3:00pm liturgy was lay-led at St Barnabas', Rowlands Gill. Parishioners rallied around and worked together, with Mike Duffy leading the congregation in the celebration of the traditional liturgy of the Lord's Passion.
Watching with Christ in the Garden
This year's Mass of the Lord's Supper was celebrated at St Agnes', Crawcrook. The Mass included representatives from the the three parishes and age groups getting their feet washed by Fr James, who also renewed his commitment to his priestly ministry. At the end of Mass, the Blessed Sacrament was taken to the Altar of Repose; the Gethsemane had been lovingly prepared by the St Agnes' flower arrangers and provided a prayerful space, in the room usually used by the Children's Liturgy, where people watched with Our Lord later into the evening.
Journeying Together through Lent
Using resources produced by the Diocesan Dept of Spirituality, the "Journeying Together" group met at St Agnes' on Mondays during Lent. Their first session was on the theme of 'Temptation.
On Tuesday 13th March, ladies from local churches joined together for a Lenten service.
Christmas Masses
This year, Vigil Masses were celebrated at Chopwell and Rowlands Gill, with Christmas Day Mass at Crawcrook. All were joy-filled services...thanks to all who helped to prepare the churches and for those who read and provided music.
Advent and Christmas in our Primary Schools
Our two primary schools celebrated Advent and Christmas in various ways. During Advent, special liturgies were celebrated and Travelling Crib sets visited families. Towards the end of term, there were enchanting performances of the Christmas stories and carol services as well as the usual parties and pantomime. By the end of term, staff and pupils were all ready for a well-earned break!
Youth Sunday
The Feast of Christ the King is traditionally denoted as Youth Sunday by the church; a special day in celebration of our young people. At the 9:15am Mass at St Agnes', many of the younger members of the parish took a lead role in the liturgy. They proclaimed the Word of God in word and song, took the offertory procession and even delivered the homily! During Holy Communion, a group of children from St Agnes' School sang Bernadette Farrell's "God's Greatest Gift." Afterwards, they sold a wonderful array of baked goods - The Great St Agnes' Bake-off - with all proceeds in support of the Youth Ministry Trust.
Bulb Planting
A squad of enthusiastic young gardeners descended on the grounds at St Agnes Church during the first week of November. Year 3 from St Agnes School turned up to lend a hand to plant hundreds of spring bulbs in the grounds. This is the first phase of a plan to create a prayer garden in the area in front of the church and is the brainchild of parishioner Bernard Mannion. It is a beautiful spot, overlooking the Tyne Valley and should be a wonderful addition to the "parish plant"in the years to come.
Young Fundraisers run for Charity
Imogen, Isaac and Alex Burkinshaw ran the Mini Great North run for the Toma Fund, a local children's cancer charity. They also raised funds by having a coffee morning after Sunday mass at Our Lady of Lourdes. They were overwhelmed by the support of parishioners and the coffee morning raised £130.00! Thank you all so much for your support!
Parish Picnic and Barbecue
Parishioners from our three parishes came together for an enjoyable afternoon in the grounds of St Agnes' School on Sunday 16th July. They brought picnics and many made use of the barbecues, while the children played together in the grounds. After a week of rain, the weather was kind. It was a great opportunity to have a chat with fellow parishioners. Fr James brought Fr Breen along, who is spending the week in the parish while on holiday from Rome. We hope to hold a similar event next year - if you weren't able to come along, why not come next time? Click HERE to see the gallery of photographs
Encouraging church musicians of the future
Children from Key Stage Two at St Agnes' School have been learning about church organs. Mr Kieran Fitzsimons, well-known local church musician and friend of the school came to give a practical workshop all about organs. They started in school, learning about the different types of pipes and how organs work, handling and exploring sounds made by flute and reed pipes. They then came down to church for a demonstration of our own Makin digital electronic organ; many of the children had a go and particularly loved the loudness of the bass pedals! They finished off by singing a firm favourite, "If I were a butterfly" with a lively accompaniment from Mr Fitzsimons.
Diocesan Schools' Festival
Year 6 pupils from St Joseph's and St Agnes' Schools attended the Diocesan Schools' Festival at the Emmaus Youth Village in Allensford in June. The event, held over several days, saw well over 1000 Year 6 pupils from primary schools from right across the diocese join together for a time of prayer, reflection, witness, fun and praise. The exciting and uplifting event was run by YMT (Youth Mission Team) Click HERE to view the whole gallery.
We had a fantastic day at 'Razed' the annual Primary Schools Festival in the Emmaus Village, Allensford. During the festival a band called 'Expedition' were playing, the lead singer Cody was from Las Vegas, along with Mary, Bridgette, Charlie, Danielle, Annasu, Andrea, Alice, Francis and Phil who were the event team leaders they and encouraged us to dance and sing along with all the songs - it was amazing!!

We were given coloured wristbands and put into groups for different activities one of them involved thinking about and writing down people who have helped us during our lives, also we made a bracelet and wrote on the people who we thankful for. We also watched a film and listened to The Parable of the Sower - which we made up a great dance to go with it and the teachers even had to join in (Mrs Watson stood out as the best!!)

Lucy Butler, Year 6, St Agnes' School
First Holy Communion
On the Feast of Corpus Christi, children from all three parishes received the gift of the Eucharist for the first time. The children took an active part in the liturgies, reading, singing and offering the gilts. The Masses were prayerful and moving occasions and the children were fantastic! Thanks to the children for their enthusiasm and commitment, their parents for supporting them and teachers and catechists for helping them to prepare for this special day. At the Masses, MInisters of the Eucharist publicly renewed their commitment to this special ministry.
Pentecost Sunday
Julie Johnson was welcomed in to the church after making her communion and confirmation. The photos show her family, Fr James, sponsor Hillary Danneker and Deacon Derek at Our Lady of Lourde
s'..
Parish Retreat - Planting the Seeds of Hope
The Parish Retreat entitled "Seeds of Hope" was a great success. There were 18 people form our parishes of Highfield, Crawcrook, Chopwell, and Winlaton.
There were about 40 people in Total. As an image of Hope we looked at the Sequoia Trees which line the drive at Minsteracres. From very tiny seeds, these enormous trees can grow up to 400 + feet tall and over 100 feet in diameter, and even taller.
The Trees at Minsteracres were planted 150 + years ago by George Silvertop. He knew that he would never see them mature, like generations following him. That did not matter, because he had HOPE.
Where are the Seeds of Hope in our parishes today; how do we keep them alive.

We plant the seeds that one day will grow.

We water seeds already planted, knowing that they hold future promise.

We lay foundations that will need further development.

We provide yeast that produces far beyond our capabilities.

Bishop Ken Untener
The weekend provided the opportunity to listen, share, pray, reflect on our HOPE for the future. There was also time to socialize, and the bar was open !!. It was a great weekend.
Fr Tuckwell's Induction Mass at St Anne's, Winlaton
On Thursday 27th April, Fr Adrian Tuckwell was inducted as Parish Priest of St Anne's Winlaton and St Joseph's Blaydon. Fr Tuckwell comes to the area from Hartlepool, and was Assistant Priest to Fr James at St Peter's, Low Fell in the past.
The induction was carried out by Fr Peter Leighton, newly-appointed Episcopal Vicar of Gateshead and South Tyneside, with the other deanery priests concelebrating the Mass. As part of the Rite of Induction, Fr Tuckwell swore an Oath of Fidelity and signed the Administrator's Oath. Fr Leighton then asked a series of questions of the new priest and the congregation. Fr Tuckwell was recently appointed as Dean of our newly formed Parish Partnership, which will include our own parishes, along with Prudhoe, Stella, Winlaton and Blaydon. We wish Fr Tuckwell all the very best in his new role.
Ground Force at work at St Agnes'
A dedicated team of gardeners, headed by Margaret Kelly, are transforming the grounds around St Agnes'. Following a lot of work clearing borders and trimming back unwieldy shrubs last year, the life-giving colour of spring flowers is brightening up the grounds around the church. Their work has even extended to the presbytery back garden, where four new residents, Matthew, Mark, Luke and John, have arrived in the pond!
Celebrating a Christian Passover
On the Monday of Holy Week, members of our parishes joined the Anglican community of the Parish of Greenside in St John's Church Hall for a Seder meal. Passover is more than a Jewish feast; it is a picture of the redeeming work of Christ - as the lamb was sacrificed to deliver the people from Egypt, so Christ was sacrificed to save us from the bondage of sin. The traditional seder meal helped us to keep in mind that night that Christ ate his last meal and, in doing so, instituted the Eucharist.
The meal was lovingly prepared by members of Greenside Parish who were warm, friendly and incredibly hospitable. Rev Tom Brazier led us through the Haggadah (the telling) while we ate a fantastic meal. The celebration ended with the singing of traditional Passover songs of praise. Thanks to the Parish of Greenside for their invitation and generosity.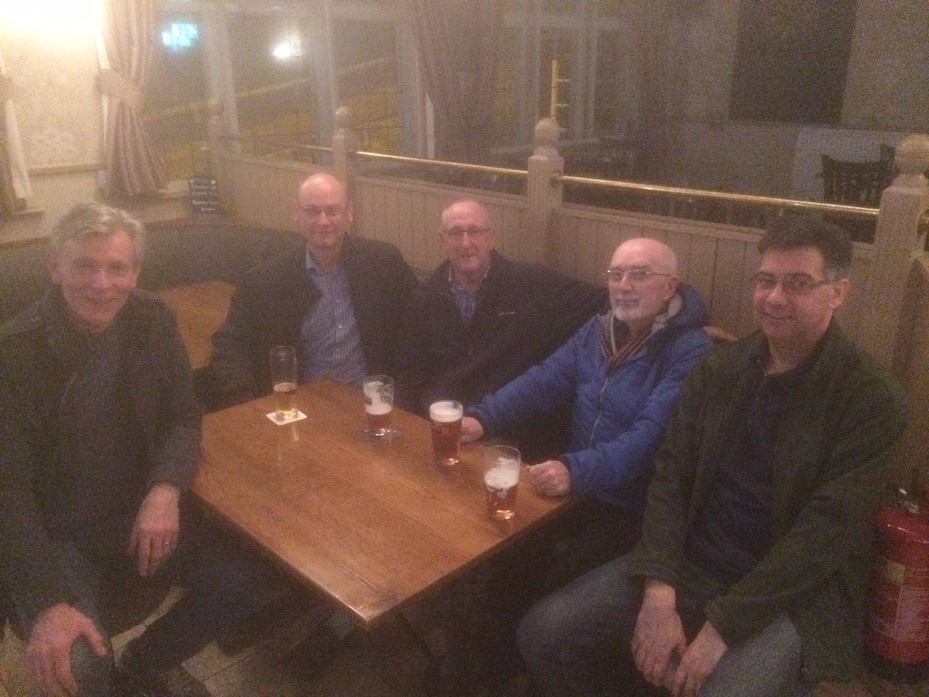 Men's Night
A group of parishioners enjoying beer and banter in Ryton village. Everyone welcome, please look out for our next social event in the parish newsletter or on the website. Come along and enjoy a relaxed evening with a drink and good company. We're looking forward to you joining us.
RCIA - Service of First Reconciliation
On Wednesday 22nd March, members of our group preparing to be received into the church at Easter, received the Sacrament of Reconciliation for the first time at Our Lady of Lourdes'.
As part of the service a number of pray er stations were set up around the church. Everyone found these prayer stations both helpful and challenging. These are visual/actions/prayer aids, set up to help people spend time reflecting and in prayer.
Where am I in my relationship to God?
Where is God in my life?
What is God saying to me?
What do I need to do?
We experienced a very quiet, prayerful and affirming time during our service.
New Icon for St Joseph's Parish.
On Saturday, 18th March at 5.30pm Mass in St. Barnabas' we will celebrate the Feast of our Parish Patron, St. Joseph [transferred from the Sunday]. At this Mass we will bless and dedicate the new Icon of St. Joseph which we commissioned.
We most gratefully thank Mrs. Catherine Ferguson for her wonderful work of art which we earnestly trust will be of great help and support to our parishioners in their prayer and reflection under the patronage and intercession of St. Joseph for many years to come.
Click HERE for more information about the icon.
Celebration of Reconciliation
Following their individual 1st confessions around Christmas-time, our young people who are part of this year's programme of Sacramental Preparation came together, with members of their families, for a joint celebration of Reconciliation on Thursday 19th January at St Agnes' Church.
The other deanery priests came along to support Fr James: Fr Adrian Tuckwell (Winlaton & Blaydon); Fr Peter Leighton (Whickham; Lobley Hill & Dunston); Fr Jonathan Rose (Stella); Fr John Clohosey (Prudhoe) and Fr Michael McKenna (retired, living at Whickham). Many parents also took the opportunity to receive the sacrament. The priests commented on how impressed they were with the maturity of the children.
Safety First at St Agnes'.
The paved area outside of St Agnes' was beginning to become a trip hazard. Just before Christmas, it was taken up and relayed, with great results. The renewed paving compliments the resurfaced car park, which was completed earlier in 2016.
St Agnes' Carol Service
The annual Carol Service in aid of CAFOD was held at St Agnes' on Sunday 18th December. The service, entirely planned by parishioners and led by young people, was a mixture of readings and music in celebration of the Christmas story. As well as congregational carols, with musical accompaniment from our Music Group, there were readings - all read by young parishioners - St Agnes' School Choir sang with great gusto and enthusiasm, with some beautiful solos, and the Children's Liturgy group sang Away in a Manger , with guitar accompaniment from Emma.
It was great to see the church so full with parishioners from all three parishes and many families from St Agnes School. Thanks to all involved, especially to those who provided the lovely, festive refreshments afterwards.
Christmas Tree Festival @ St Barnabas' (and St Patrick's)
3rd-4th December was an exciting weekend in St Barnabas! The Christmas Tree Festival, organised by the Anglican community, ran all weekend with free entry and any donations going to Shelter and 'Daft as a brush'. St Patrick's Church in High Spen was similarly bedecked.
The church and adjoining hall were decorated with an array of Christmas Trees, all donated and decorated by local businesses, other faith communities, schools and community groups.
On Sunday 6th December, the festival culminated with a special "Big Sing" service of carols in St Barnabas'. The church was packed. All proceeds were divided amongst three charities.
A trip to Leeds Christmas Market
On Saturday 5th December, a group from our parishes enjoyed a festive day trip to Leeds Christmas Markets.