Parish News and Events
Click on the thumbnails to view photo galleries.
St Joseph's sacristy bell rings again in the Cathedral
When St Joseph's Church closed in 2012, parishioners were invited to take some of the fixtures and fittings as a keepsake of their beloved church. Tony Noakes, from Hookergate, took the bell that hung in the sacristy to announce the beginning of Mass; he had it especially engraved to mark its significance. After a while, he presented it to a good friend who was connected with the St Mary's Cathedral in Newcastle. When Tony attended Mass at the Cathedral with his friend, he was astonished and delighted to find it mounted and beautifully polished at the back, beside the West Door; it is now used to signal the beginning of Solemn Mass on Sundays and special diocesan occasions.
St Agnes' Church receives much-needed exterior repair work
First we had to review the property with the Diocese representative for buildings and grounds. We assessed all the work that had been indicated by the survey then prioritized it into stages of work.
We had to ask lots of questions to get the best price and job done. Lots of phone calls were made and meetings were held on site. This was then all submitted to the finance committee and the PPC and after all that to the diocese for another grilling on costing. We were then requested to reduce some of our expectations.
No real work had been carried out on the outside of the building for a long time. Dates and times for all work were set. These often had to be adjusted due to changes by the Contractors, requiring constant flexibility. Due to scaffolding going up the site had to be a PPC area with shut gates to give security in all ways
We started with only some of the scaffolding being completed, but this gave me time to have a proper look at the roof and the ridge tiles. The ridge tiles were in a very poor state and fell apart when lifted by hand so all [32] were replaced. An even better assessment was made of the condition of the tiles on roof. Lots had holes and the glazing was pitted. The type of tiles proved to be very hard to obtain. They were made in Belgium just after the Second World War and were imported into the south of the country but very little was known about this. Even the roofer with 30 years in the business had not come upon these tiles. The diocese could not help but fortunately for me my daughter Suzanne was off work (after a back operation ) She managed to find a source of supply after a lot of phone calls to reps of different companies. She found 380 brand new tiles at Hull. This was a complete pallet, so we purchased the pallet, hoping that there will be some left for another day. We did find 1000 second hand tiles down south but logistics of getting them and the quality being suspect made us decide new was best. The tiles are called Flemish 401 anthracite (grey) and I have heard there are other properties in the Diocese with this roof tile so my research may be of some help.
All the gutters and down comers had to be cleaned out and repaired. The growth of weeds was excessive in some points. They were then painted with 2 coats of black metal paint. Every joint on the gutters has been disassembled, reassemble with new sealants with bolts where necessary, and repaired with a covering paint that has fibre-glass in it. The rails on the tower were also painted and the tower floor was cleaned out.
260 main roof tiles were replaced including the small roof at the back of church covering the tabernacle. The ridge and leads were repaired and all edging was repaired, or replaced. Where the tile reaches the gutters it all had to be pointed in. All necessary lead work has been undertaken, one side of the tower completely repointed, and where necessary elsewhere on the tower. The structure of the cross was inspected and found to be good as this is also the lighting conductor. It also received 2 coats of paint. The temporary fencing gates on the drive gave us some idea of how, when we do fit permanent gates, they might perform and we received some helpful feed-back.
All windows surrounds have been repaired. They are of a concrete structure with metal rods inside and very porous. With the driving rain and snow all of the window leads had started to leak so it was decided to put a Perspex covering over all of them. This will protect them from the elements. It is not double glazing but may give some support to this. Small gaps should prevent condensation.
All seating in the choir loft was removed due to wood worm. This is still to have a complete inspection and is ongoing. When we were up there we installed CCTV system. At the moment, this only gives protection at front of church but more cameras are to be installed at a later date. There were two heavy gates that have been up in the choir loft since the major alterations to church. These are now installed, replacing the rotten gate and posts between the rear drive and front of the presbytery.
The next phase is internal work to the Church. - upgraded lighting and painting of all the church using scaffolding, and a lift will have to be used in church. This will cause unavoidable disruption with which we hope to cope as best as we can, and as well as all have done so far.
B. Mannion.
Parishioners embark on Sacred Journey
A group of parishioners spent a weekend on retreat at Minsteracres. The programme, entitled 'Sacred Journey,' involved a number of activities in the wonderful grounds, including prayer stations and celebration of Mass and, of course, time for fellowship with one another.
St Agnes' Goes to the Dogs
A group of parishioners from St Agnes' enjoyed a trip to the Newcastle Greyhound Races in April. Here are some pictures of them studying the form-book very carefully!
Good Friday prayers said at the site of St Joseph's Church
The Rowlands Gill and Highfield Churches Together held their ecumenical 'walk of witness' on Good Friday, beginning at the Cenotaph in Rowlands Gill. A cross was carried through the streets taking in the four churches and many of the places where local Christians are involved in mission activity, ending on the hill beside St Patrick's church. The walk included readings from scripture of the 'way of the cross' and gave people the opportunity to pray for the people and concerns for our communities.
The penultimate stop was at the Calvary that remains at the site of the old St Joseph's Church in Highfield; the site, including the remaining presbytery and the old St Joseph's School, is now occupied by the Carers' Trust. The scripture reading reflected on the witnesses of Christ's death and worshipers prayed that local Christians are effective witnesses to Christ.
Schools share celebration of the Stations of the Cross
On the Wednesday of Holy Week, children from Years 5 and 6 of St Joseph's and St Agnes' Primary Schools joined together for a shared liturgy of the Stations of the Cross in St Agnes' Church. Pupils from both schools took turns to present each of the 14 stations through readings, drama and song. The liturgy was prayerful and inspiring; the children participated reverently and enthusiastically. They were joined by some family members and parishioners who found the service very moving.
Ecumenical Advent Services
Ecumenical friends in the Wylam, Crawcrook and Greenside Churches Together area gathered in St Agnes' on the first Sunday of Advent for a joint service. The collection taken was in aid of CAFOD and Christian Aid.
A week later, Churches Together in Rowlands Gill and High Spen gathered in St Barnabas' Church for the annual 'Big Sing.' The service started outside, with the lighting of the Christmas tree, then moved into the warmth!
Experience Christmas
This was a truly ecumenical undertaking with people from all four churches in Rowlands Gill and High Spen area sharing their creativity and hard work to make it happen.
St Patrick's C/E Church was used as the venue and people from our churches set up 'stations' around the church to help our local school children (and some adults who joined in the fun) to engage in the Christmas story and reflect on how the story might have a bearing on their lives. We've had 364 children and 123 adults through the experience from all four of our local primary schools. People from our churches spent hours cutting up paper donkeys, present boxes, angel cards and the like to make this possible. People from all of our churches came along to morning and afternoon sessions to welcome the children and help them in the various activities around church.
The event had a great feel all the way through – on the first afternoon, two little boys enthusiastically declared how much they'd enjoyed the whole event and were joined by a little girl who excited said 'I can't wait to see the baby Jesus'. A message from a parent helper after the St Joseph's school visit said how her daughter was busy telling her dad all about it and asking him what gift he would give to Jesus this Christmas.
Well done to all our folks and to give thanks for what our churches have done working together over these weeks. Along with a nativity Christmas Tree decoration, we gave everyone who visited a little Christmas Card with the times of our four church's Christmas services.
Rev John Barron
The elements take their toll at St Agnes
The main doors at St Agnes are temporarily out of use, as a scaffolding tower has been erected to give access to the window above. The north-facing stone work has become damaged and is in need or urgent repair. Fr James was spotted climbing up to assess the damage after Mass on Wednesday.
Following some repair work by a stone mason, the damage has been repaired. 2018 should see more remedial repair work to the exterior (guttering etc.) as well as repairs to walls. The inside is also due some refurbishment, including repainting and improvements to the lighting.
Sacramental Preparation programme underway
The next programme of Sacramental Preparation got underway.in early September. The programme stretches right through until June 2018, when the candidates will make their First Holy Communion, with Reconciliation being celebrated in December. The first session for parents took place on 14th September at Our Lady of Lourdes. The children's classes got underway the following week, with the children starting their preparation for first Reconciliation during Advent.
In the next session, the were children learning about the meaning and symbols of baptism. They performed role play in the baptism of baby "Emma" around the font and paschal candle, with children playing the roles of Celebrant, parents, Godparents and the congregation.
Reflections from Lourdes
Kiturah Richardson and Anna Duffy from our parishes took part in this year's annual Diocesan Pilgrimage to Lourdes. Here is a reflection on the experience from Kiturah:
When I was asked to think about going to Lourdes, I was really unsure. I know loads of people who have been year after year in the past, and they all said how much of an amazing, life changing experience it was, they also said that it is impossible to describe how it makes you feel. I never understood what they meant by that, until I went myself last week. As soon as we arrived in Lourdes, we were kind of thrown in at the deep end, not really knowing what to expect. The type of things that you get asked to do ranges from making cups of tea, taking someone to the toilet, feeding someone, washing and dressing someone. As a first timer, it was quite daunting, the idea of feeding someone else was scary, but when I was asked, I did it. Something comes over you and you just do what needs to be done, I really surprised myself this week. Throughout the week I found myself offering myself in ways I never thought I could. In the hospital, you meet such a range of people with different illnesses and disabilities, some of whom are unable to communicate. One day I was asked to push a man's wheelchair who used makaton to communicate, something I couldn't do. By the end of the day, I learned loads of different signs and was having full conversations with him in makaton. In Lourdes, you learn that it takes a little bit of time and a little bit of effort to make a difference. You feel a sort of privilege to be helping the people, even just pushing their wheelchairs to and from a mass, they are always so grateful. So many of the pilgrims said to me that the pilgrimage wouldn't work without the service offered by the youth section, it makes you feel a kind of glow inside, that you've made a difference. That was my favourite part of Lourdes, feeling that I made a difference to people's lives, even if it was just for a week. Lourdes has also helped me to deepen my faith, I have never felt so close to God than I did when I was sitting in the grotto at 5 in the morning, a few of us got up early to go down and have some peaceful prayer time before the day. You feel an indescribable spiritual connection, the silence and stillness is something I have never experienced before. Although my week in Lourdes was hard work, both physically and emotionally, it was also amazing fun. On the evenings we took part in themed nights, this year we had a where's wally, a bollywood, and an Irish night. It was lovely to see the youth section, the pilgrims, the adult helpers, the nurses, the priests and bishop all join in together on an evening and learn to bollywood dance and ceilidh. On bollywood night, even Bishop Seamus was up learning how to dance amongst the youth section while the pilgrims cheered us all on, that's what I think Lourdes is about, it's about the young, the old, the able and the disabled, coming together. I want to thank everyone who donated money towards my fundraising, without it, I wouldn't have been able to take part in this amazing experience.
Mystery Trip...to Woodhorn
The Friends of St Agnes held their annual Mystery Trip last month. The group ended up having a thoroughly enjoyable day in Northumberland, at Woodhorn Colliery near Ashington, before heading to the coast for fish and chips at Seaton Sluice. Next year's trip...who knows where? Let's hope to have parishioners from all three parishes joining.
Diocesan Festival
The theme for the Diocesan Festival 2017 at the Emmaus Youth Village on 24-25 June was titled "Changing Hearts - The challenge of discipleship."
The programme included speakers, drama, music, testimony, prayer opportunities and sessions for children and young people. On Saturday evening there was a family céilidh.
Two families for our parishes attended this year and all had an amazing time. Bishop Séamus was present for the entire weekend and in his concluding comments, he challenged every Partnership to bring a coach full of people to next year's festival. Please get in touch if you're interested and would like to know more. Click HERE to see the full gallery of photos.
Mark Hindmarsh
Converting media.
(Media will continue converting in the background)
Going Forth
Following the celebration of First Holy Communion on the weekend of Sunday 18th June, the programme of Sacramental Preparation came to completion the following Sunday when many of the candidates returned to Sunday Mass. At the end of Mass, they presented a "sending out" prayer as a witness to the community. The children prayed:
Jesus has no body now on earth but ours. No hands, no feet, on earth but ours. Ours are the eyes by which he sees, the ears by which he hears. Ours are the lips by which he speaks of his love. Ours are the feet by which he walks in the world. Ours are the hands by which he blesses the world. We are his body. Jesus has no body now on earth but ours.
Summer Fayre @ Chopwell
Thank you so much to everyone who came to our Summer Fayre last weekend; for your support and hard work under difficult circumstances. IT RAINED. But then we just finished packing everything away and the sun came out!! it is our Parish policy not to publish financial amounts. I can assure you all that we did very well. If you wish to know the amount, just ask
And a new sanctuary carpet
The newly refurbished floor at St Barnabas has been topped off with a new sanctuary carpet. Thanks to all who came along to help lift the old one.
Further refurbishment at St Barnabas'
The wooden parquet floor in St Barnabas' Church was given a much-needed refurbishment at the end of April. Parishioners worked together to move the pews into the adjoining church hall while the work was completed. The shiny flooring complements the new wooden partition between the church and the hall.
Hot Cross Bun Witness
Members of St Agnes' Parish joined fellow Christians in Crawcrook on Good Friday taking the message of Jesus' sacrifice on the cross to the wider community. They offered Hot Cross Buns, wrapped in especially printed napkins, designed to raise awareness about the importance of Good Friday. The Hot Cross Bun Witness, organised by the Methodist Church, is an innovative , new initiative which was also a great witness to strong spirit of ecumenism that exists in our communities.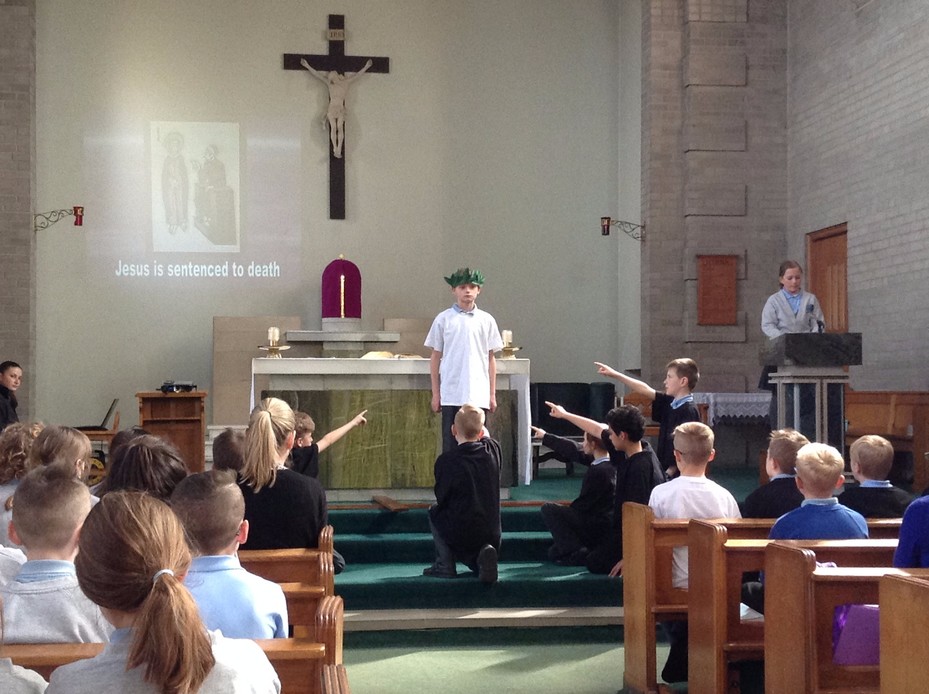 Schools celebrate joint Stations of the Cross
On Wednesday 4th April, Years 5 and 6 pupils from our primary schools joined together to celebrate Stations of the Cross in St Agnes' Church. The children from St Agnes' and St Joseph's Primary Schools presented the stations in the form of readings, drama and music. After each station, they prayed together for a wide range of petitions. All present would agree that there was a lovely atmosphere, and that the children were a credit to our community with their earnest and wholehearted participation.
To view pictures of all fourteen stations, click HERE.
Talk on the Northern Saints
During Lent, Mike Duffy, parishioner at St Joseph's, gave an illustrated talk on the Northern Saints at Our Lady of Lourdes. The presentation has led to a suggestion that a trip to Durham Cathedral for the three parishes be organised. Mike, who is an official guide at the cathedral, has agreed to be our guide. So after Easter, watch this space for parishioners' views!
Success at John Paul II Awards
On Thursday 2nd March, the Tyne Theatre played host to the first Pope John Paul II Awards for the Diocese. Our congratulations goes out to two of our young parishioners Ellen Scott and Sophie Thorpe, who were among those to receive the award.
Over the last two years, the two girls have been working towards their award by taking on responsibilities in our parish and in the community. Ellen and Sophie were delighted to receive their Gold award from Bishop Seamus and Fr Paul Farren from the Diocese of Derry, who created the award.
Twistin' the Night Away
Around 80 people, aged from young-in-age to young-at-heart, enjoyed a superb social evening in St Barnabas' Church Hall on 3rd March.
Live music from 1950s and 60s was provided by much-loved band 'Heartbeat', back by popular request, and the dance floor was filled from start to finish. There was also a quiz, provided by quizmaster Paul Webster, and a hugely impressive raffle!
Thanks to all of those who were involved in organising such a wonderful night.
Improvements at St Barnabas'
Four years in the making (for various reasons), a new glass partition has finally been installed at the rear of the church to replace lethally heavy old wooden ones in St Barnabas'. The aim was to give greater light into the Church under Choir balcony; to enable Church/Hall Hire users to be more aware of each other; to accommodate "overflow" attendance in Church eg. funerals and/ C of E Sunday School Liturgies; and, most importantly, to enhance the Church as a welcoming place of worship.
Also added is a beautiful Holy Water font, modelled on one in Chopwell, fashioned by Fr. Tony Duffy, PP of Birtley, (original by our late parishioner in OLL, Ray Ellis.)


Christmas Lunch
Staff at St Joseph's School took a few moments out of the hectic build up to Christmas, with a festive lunch together. They were joined by Foundation Governor, Paul Bradley.
School Mass @ Our Lady of Lourdes
St Joseph's School Masses usually take place at St Barnabas', Rowlands Gill. However, Years 1 and 2 recently travelled up to Chopwell by coach and joined some delighted parishioners for Mass at Our Lady of Lourdes. After Mass, they looked at some of the features in church with Deacon Derek.
Youth Sunday
Sunday 20th November, The Feast of Christ the King, is also Youth Sunday. At the weekend Masses, it was great to see some of our young people taking an active part in the liturgy, through the ministry of reading, music and serving. Some of our young people also spoke during the homily, sharing their faith with the whole congregation.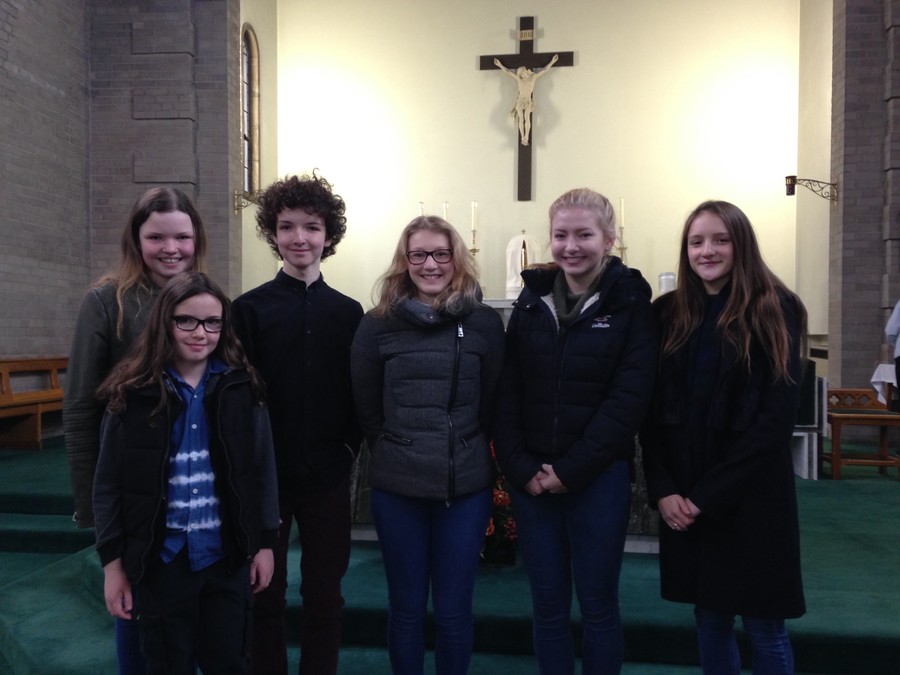 Ellen, Sophie and Bethany are currently working towards the Pope John Paul II Award. The girls lead our children's liturgy at St Agnes on a regular basis, they always provide fun and informative activities which enable the children to understand the Gospel message. At school, as part of their social action they are involved in raising money for St. Cuthbert's Care and other local charities. They manage to fit this in with their studies, university applications and part time jobs. We wish them luck!
The John Paul II Award is for anyone between the age of 16 and 18. It is non-competitive, inclusive, flexible and voluntary. Awards are earned by taking part in parish and social activities – 1 hour per week over 8, 14 or 20 weeks. There are 3 Award levels – Gold, Silver & Bronze. Those that have completed the Gold Award have a further option of completing the Papal Cross Award.

Over 20,000 young people, in 21 dioceses throughout Ireland and the U.K have successfully completed the Pope John Paul II Award. For more details, please click HERE