Join us in prayer
Please remember the following in your prayers:Pially:
Chloe Anna Cant, Aaron Armstrong, Brian McNally, Ruth MacCaughey, Mia Slowie, Audrey Rafferty, , Patrick John Lawrence, Helena Elliott, Irene Gilhooly, Maureen Baines, George Gill, Monica Coleman, Terry Reay, Tony Tynan, Simon Burns, Julia Knight, Doreen Hodgson, Michael Delamere, Jane Parkin, Tony Pfiffin, Wilf Crawley and George Dixon and Fathers Tony Duffy, Richard Harriot, David Tanner, Ian Hoskins and Pat McKenna.
We pray also for Bill Mennell and Barry Gatiss who have died recently.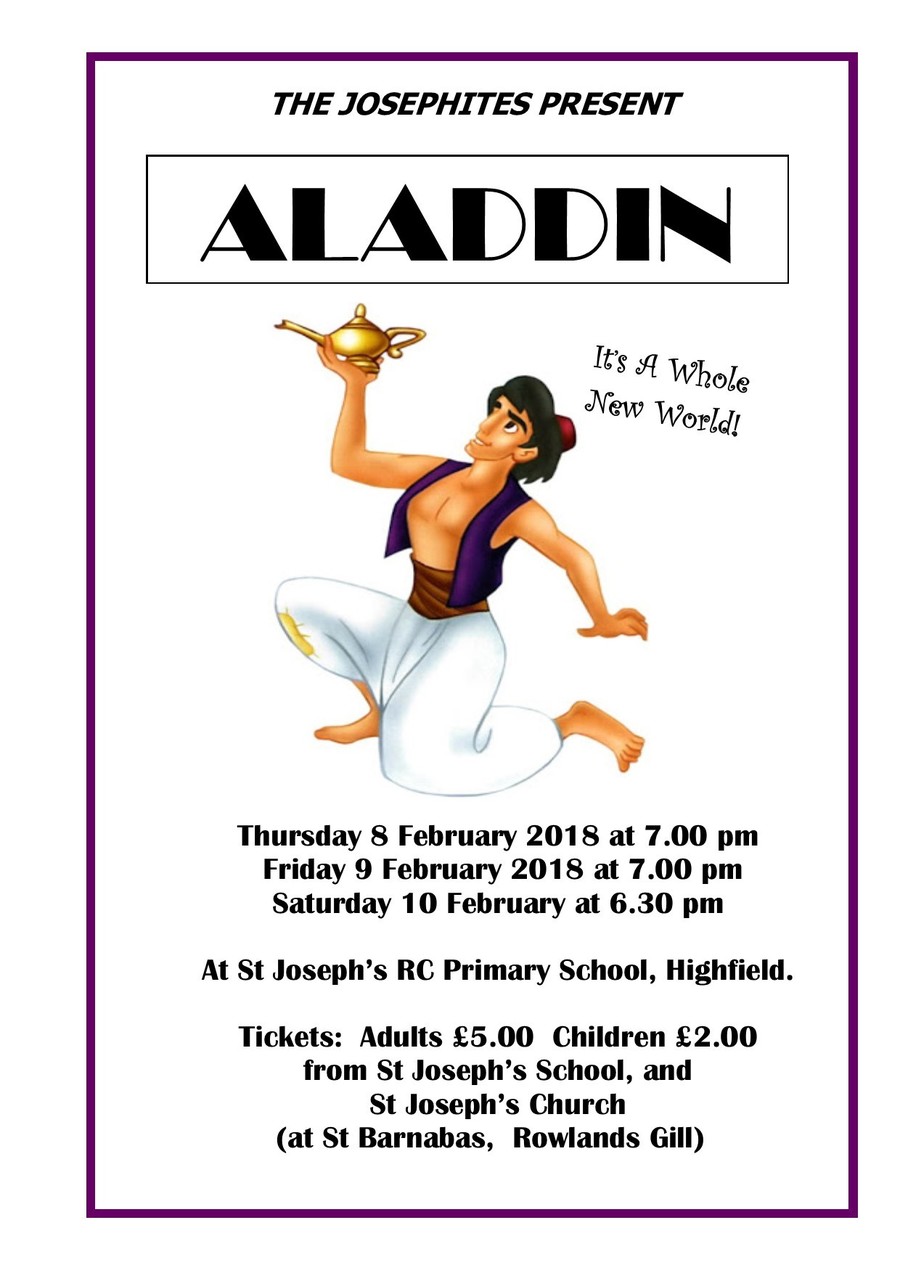 To reserve tickets, please call 01207 543694
Latest calendar Events
Week of Christian Unity - 18th-25th January

18

Jan

2018

The Week of was originally begun in 1908 by the American Episcopalian clergyman Paul Wattson who later became a Catholic. The Week begins on 18 January and ends on 25 January—the Feast of the Conversion of St Paul. Material for the Week of Prayer is prepared in collaboration by Pontifical Council for Promoting Christian Unity and The Commission on Faith and Order of the World Council of Churches. Each year this material is produced by Christians in a different country.
Communal Service of Reconciliation

18

Jan

2018

6:00 pm - 7:30 pm @ St Agnes' Church

We will be joined by the Partnership Area clergy for a communal service of Reconciliation for sacramental preparation candidates and their families.
3rd Sunday of Ordinary Time

21

Jan

2018

All weekend Masses as usual.
Parish Partnership Development Group Meeting

23

Jan

2018

7:00 pm - 8:30 pm @ Our Lady of Lourdes, Chopwell